About Us
Ortery Technologies
The idea for software-driven product photography workflows and equipment arose after a simple observation from founder P.C. Lai. Existing photography solutions for business communication were inefficient, inconsistent, expensive and required considerable knowledge about cameras and lighting to achieve desired results. In 2002, Ortery Technologies set out to design and bring to market a solution that would allow anyone to efficiently capture high-quality results that could immediately be put to use for any application.
Streamline photography workflows
A year later the Coloreal eBox (later branded the Photosimile 200) was born. Coloreal eBox was the first product of its kind and was at the forefront of photography innovation by integrating remote capture and image processing software with a desktop product photography studio to standardize and simplify the product photography workflow. Coloreal eBox paved the way for the underlying product concept designed into all Ortery's equipment today.
Since the introduction of the Coloreal eBox and the complete Photosimile Series, Ortery went on to coin the term 'business photography machine' and further strengthen the concepts of 'business photography' and 'visual communication'.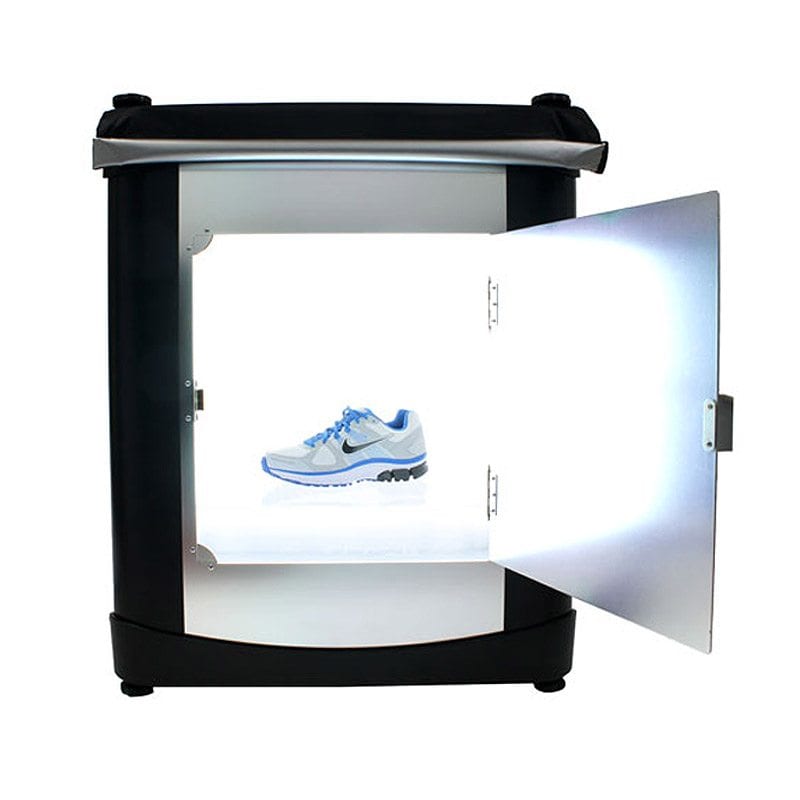 In 2006, Ortery launched the PhotoCapture 360 line of computer-controlled photography turntables. PhotoCapture 360 was an instant success as it provided businesses with an easy way to create and distribute interactive 360-degree product views.
eCcommerce companies used them to increase customer satisfaction and online shopping conversion rates while other companies found them invaluable for product development and quality control. In 2008, Ortery launched the widely acclaimed Photosimile 5000 – 'The world's first office photography machine'. This fully integrated solution is capable of automating still, 360 and 3D (hemispherical and full spherical) photography. Even today, the patented design where the camera automatically travels along a rail inside the studio is still ahead of its time.
Photography automation and workflow optimization are what drive Ortery's creative process. Regardless if is for creating still, 360 and 3D product photography, patented innovations that allow companies to simplify product photography while saving time and producing better photos have been developed and applied to all of Ortery's products spanning five product lines.
Based on industry trends and customer feedback, in 2012 Ortery launched the PhotoBench Series. These products represent years of research and are protected by several worldwide patents, as they do one thing that's never been done before – they allow anyone (regardless of experience) to take professional pictures and 360 animations that have a pure white background. Captured images do not require editing and can immediately be used in any web and print application.
The next generation, PhotoBench 280, LiveStudio and the entire Infinity series will continue to carry the torch toward complete product photography automation and the ability to take better pictures, easier and faster than ever before.
Ortery is committed to continually innovate and introduce new technologies that help companies communicate more effectively and efficiently. We will strive to provide our customers with the best product photography solutions available.
Ortery is constantly developing new and improved hardware and software product lines. We are developing the photography products of tomorrow.
See how you can be part of our future