The Next Generation of Office Imaging Technology
The Office Photo Machine is a software-controlled lighting environment and camera delivery system that makes it easy for anyone to walk up, place an item inside and produce professional still, 360, 3D and video results for any application. Software included.
All-In One Solution For Content Creation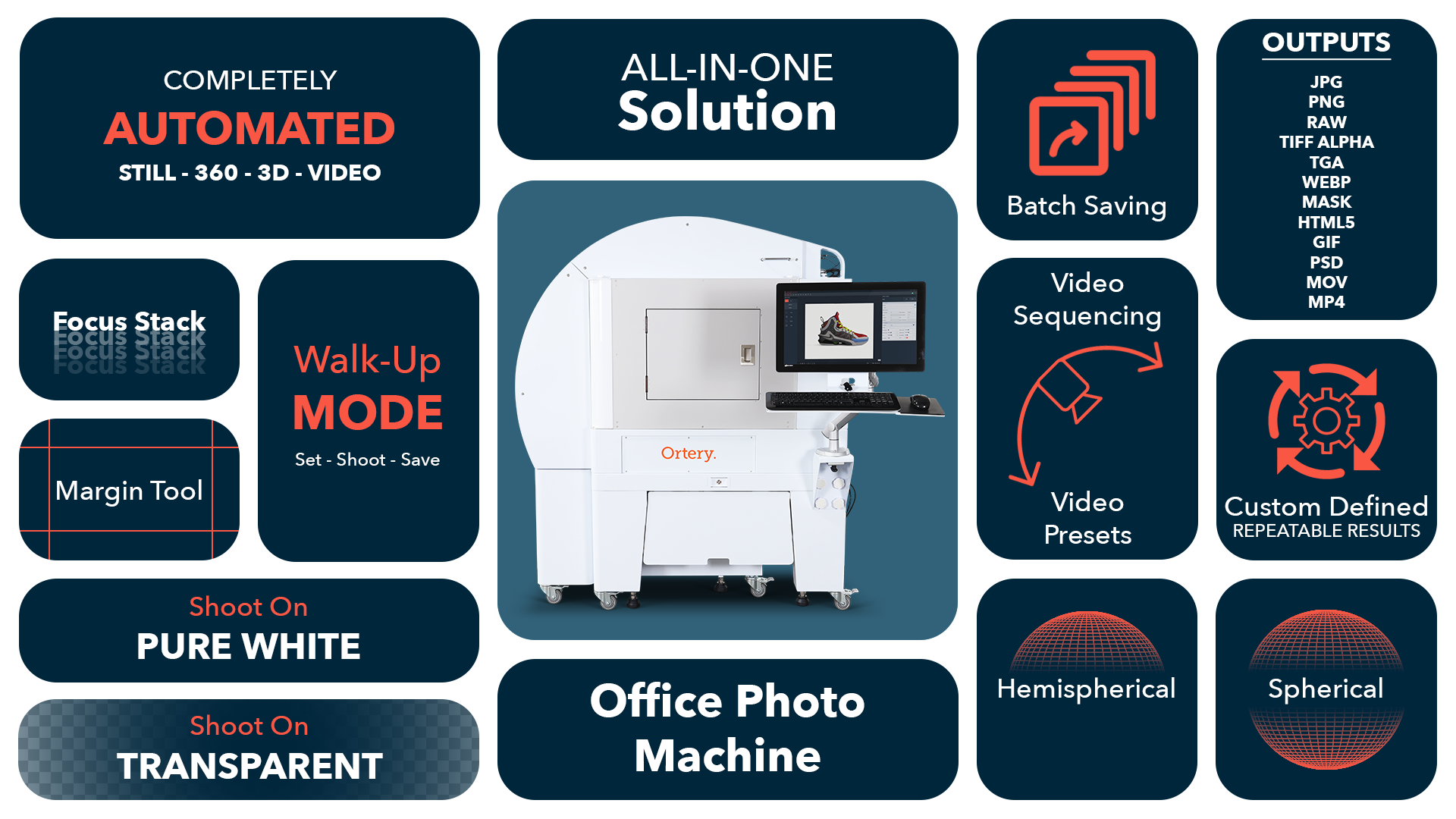 One Solution - Two Applications
The featured Walk Up Software, makes the OPM as easy to use as a copy machine. Simply place an item inside, then use the touchscreen to compose and capture. Presets are used to ensure ease-of-use and quality. Just Set, Shoot, and Save.
The Ortery Capture Software delivers full professional functionality. With thousands of features to choose from, like focus stacking and color conversion to name a few, users can customize and automate their entire photography workflows.
FLYOVER - TILT - ZOOM - SPIN
Software Controlled Motion & Image Capture
The rounded edge hints at what's inside. Between 0 and 90 degrees, a patented "flyover" camera system controls shooting angle, tilt, and zoom. Used in conjunction with the built-in turntable, software synchronizes all camera and product movement to automate product capture from any angle. Presets and saved profiles are used to create 360 and 3D videos as well as interactive content such as 360, hemispherical and spherical product views featuring deep zoom and hotspots.
Capture on Transparent & Pure White
Most features in the OPM utilize its patented, edge driven turntable. The ability to spin a product 360 in combination with automated image capture opens the door to an almost unlimited amount of still, 360, 3D and video product display options. Because the turntable is bottom lit, the product appears to float in the center as it spins and images can easily be captured with a pure white or transparent background.
Perfect For
Still Shot Sequencing
CAPTURE MAIN ANGLES WITH ONE CLICK
eCommerce often requires companies to repeatedly shoot products at the same 5 or 6 angles. With an OPM, it's easy to create a workflow where the camera automatically flies over the product and turntable to capture images at the exact angles. Not only can the camera locations be memorized and reused, so can the precise camera and lighting settings. Which means the system can automatically create professional results that are consistent and repeatable.
Video sequencing automates video capture and production. In addition to offering one-click templates for 360 and 3D video capture when used with the OPM, users can create their own actions (flyover, spin, zoom, tilt) and record them as MP4 and MOV video clips for stitching in the software or for exporting for use in any video editing software.
Simply enter the product height and the OPM will automatically make the proper adjustments when creating still, 360, hemispherical or spherical product views. Why manually adjust camera tilt when it can be precisely automated?
FOR SPEED & REPEATABILITY
The OPM comes with our patented 360 product centering technologies, including  calibration workflows and centering beams. Use the live preview to easily find and relocate the turntable's dead center to make product placement fast and repeatable.
Find the right fit for your needs. Select the right size for your product with the features you require, we can help you take the types of pictures you need.