Ortery announces Version 16 of its Ortery Capture product photography software. New features help customers increase product photography efficiency and get more done. Check them out and upgrade below.
Easily create swatches that show available textures and colors. Simply select an area on a captured image and Ortery Capture will automatically save the selected area as a swatch. Swatches are saved with their related image and swatch shape, name, size and saving method can be memorized for reuse.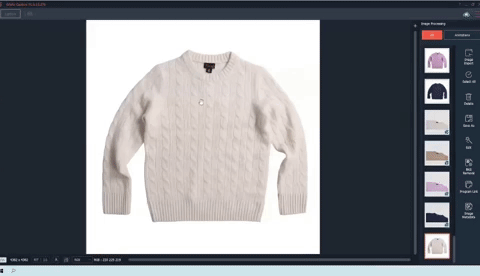 Ortery's AutoMask allows users to take a picture and automatically remove the background in one step. In Version 16, several new features were created to make AutoMask even more powerful.
New AutoMask Uses and Features
To provide a better user experience, all AutoMask Recovery tools are now on one page.
AutoMask Recovery can be used during the picture taking process.
A new edge repair tool gives users the ability make edits and re-apply a background removal algorithm.
A new background removal algorithm "Mixed" was created to yield super fine results for products with multiple characteristics, such as reflective and transparent.
This new hardware and related software module gives users the ability to take pictures of bottles and glassware on a transparent background while maintaining the correct level of transparency in the glass. Easily swap backgrounds to reflect your brand's aesthetic.
Introducing Video Sequencing
Automate product video creation. Simply define the actions of one or more clips, then let your Ortery lighting studio or turntable automatically move the product and control camera location to capture each clip in a defined sequence. After capturing, immediately edit and stitch each clip into a single MOV or MP4 video. Enjoy using presets or memorize the capture, editing and saving actions of your own creation. Reuse saved actions to accelerate and automate future projects.  Individual clips can also be saved for use in Final Cut Pro, Adobe Premiere or other video editing packages.
Captured, stitched, and edited with Ortery Capture v.16.
Upgrade to Version 16 today and enjoy free upgrades for the next 365 days.
For more information or to schedule a demonstration, Contact Us Today.
Ortery Technologies is the industry pioneer and leading manufacturer of professional product photography solutions that automate inhouse photography and video production. Their solutions allow anyone to capture and display eCommerce, video, 3D and 360 product photos.  Ortery customers benefit from specialized hardware and software working together to simplify and accelerate every step of the content creation workflow.